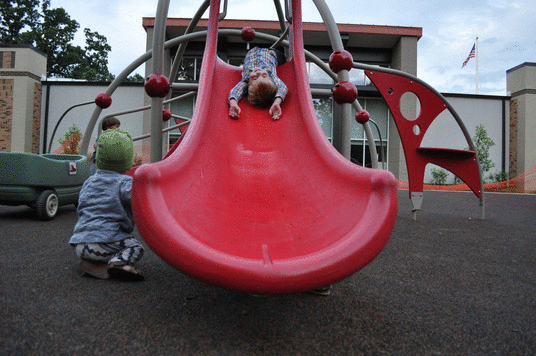 The following pictures were taken exactly one month ago. Hard to believe it was cool enough for us to be wearing sweaters, long sleeves, pants, and even a hat for nearly-bald Emil!
But the essence of the beginning of summer is within these shots. The constant motion, the adventure, the childhood that is happening right before our very eyes. Sometimes I catch glimpses of my own girlhood in my boys: the tree-climbing in bare feet, sweaty breathlessness of constant running through cool grass, dirt up to the elbows and blisters on each palm from monkey bars and climbing fences. It is magical when that happens, and I finally understand what other parents used to tell me before I was a parent. The part about your kids keeping you young.
Before the boys went on their summer nap strike (way back in May and early June), we ventured to the playground half a block away from our house every night after dinner. Usually with popsicles and a banjo or guitar in hand, we pushed or pulled or made the little guys walk down the hill to the new playground behind the elementary school where we plan to send all three of our boys.
And as soon as the wagon stopped (and many times before it stopped), these boys were off like wild bandits, running and jumping and climbing to their hearts' delight. Shoes never stay on, though we always bring them, for some reason.
Milo is off like a flash, feet barely touching the ground…
… While Emil finds the slide to climb and Oliver finds playground treasures to fill his wagon.
… or hitch a wild wild ride.
And I miss those evenings at the playground, because now those boys are so exhausted by 6:30 that there is no way we can drag them there, even if it's what Andrew and I really want after all.